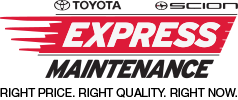 The Toyota Express Maintenance Difference.
Your time is valuable. So when your Toyota or Scion needs factory-scheduled maintenance or minor repairs, don't let it slow you down. Toyota Express Maintenance offers everything you need to keep you moving. All from the one place you trust to do it right -- Hoffman Toyota.
If you live or work in the Hartford area you can rest assured that servicing your vehicle at Hoffman Toyota will allow you to quickly hit the road with confidence. Contact us today to schedule your next Toyota or Scion maintenance service visit. We have the right price, provide the right quality, and can do it right now!
We cover a lot of ground
Our Toyota-trained technicians are deployed in a "pit crew" approach, to ensure your vehicle receives rapid and accurate service.
Toyota Express Maintenance services include: