Peace of mind comes standard with ToyotaCare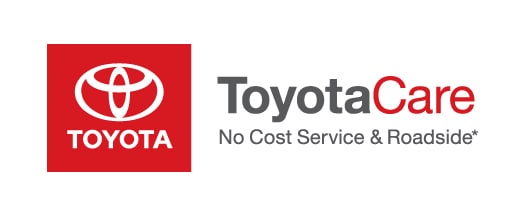 Hoffman Toyota doesn't just stock a fine selection of dependable vehicles to drivers in Hartford, Bristol, Newington and Manchester, CT. We pledge peace of mind with every new vehicle we sell through ToyotaCare, a unique repair and upkeep plan that ensures the well-being and longevity of your vehicle through a no cost maintenance plan.
The cornerstone of ToyotaCare is its 2-year/25,000 mile cost-free maintenance plan, including 24-hour roadside assistance for two years, regardless of miles. By scheduling regular service and maintenance checks with our on-site Toyota auto service center, you'll enjoy a smooth and headache-free driving experience.
With recommended service appointments every six months, this program will help with engine oil and filter changes, tire rotations, multi-point inspections, and the adjustment and inspection of your car's fluid levels. We also offer the benefit of genuine Toyota parts in the event of a serious repair, installed by certified technicians.
If you and your car are having a bad day, the 24-hour roadside assistance included in this plan will be a great boon. Our team specializes in battery jump starts, lockout protection, emergency fuel delivery, tire service, and even towing and winching.
To learn more about this program and our lineup of models, contact our sales team today.
Toyota-trained technicians will help you fulfill maintenance obligations and help improve your Toyota's overall performance while keeping a complete history of maintenance visits. Toyota will also deliver timely reminders before your scheduled maintenance.
ToyotaCare Scheduled Factory
Maintenance Covers: [3]
Inspect and adjust all fluid levels
Replace engine oil and oil filter [4]
Rotate tires
Multi-point vehicle inspection
ToyotaCare features 24-hour roadside assistance for those days when you need a tire changed or a door unlocked. Toyota owners will receive no cost roadside assistance for two years, regardless of mileage.
*24-Hour Roadside Assistance Covers:
Battery jump-starts
Tire service
Emergency fuel delivery
Lockout protection
Towing
Winching